Healthy Eating  –  Keeping off the weight during the holidays is difficult. There are so many temptations and so many parties. One strategy is to bring a healthy snack to the holiday dinner. " …
Healthy Eating: 11 Recipes For Healthy Holidays!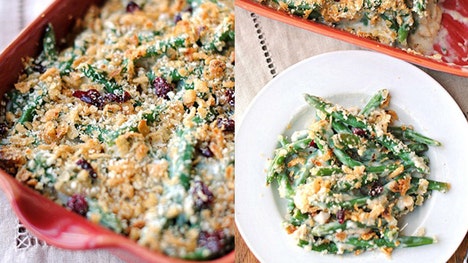 Okay, you're going to a family Holiday celebration and you want to bring a healthy snack or side dish to the dinner. What should it be? Are you thinking of all of your favorite holiday sides that are not really healthy? 
Do you want to contribute more than a vegtable platter or a relish/olive tray? Are you sort of stumped? I know I was. I am not a very creative cook. I find it hard to change an old favorite like green been cassaole into a tasty healthier version.
Never fear! Have we got some great suggestions for you! Here are 11 healthier receipes we found at FoxNews.com. Just wait til you see the green bean casserole I'm making this year!
http://www.foxnews.com/ Dec 19
It's impossible to escape the dreaded over eating during the holidays. Eggnog, mashed potatoes and your mom's decadent chocolate cake are just too good not to indulge. This year, swap out a few of your favorite dishes with some healthier alternatives that are still delicious.
Read More At: http://www.foxnews.com/leisure/2013/12/19/recipes-for-heatlhy-holiday/
The Eat This Not That Theory
By eating a few healthier options you wiil still be able to eat some of those recipes you wait all year round for. IMHO there is no sense trying to adhere to a strict diet during the holidays. By offsetting the taboo choices with some healthier choices, you don't have to obsess about extra pounds this holiday season. You can have your cake and eat it to!   
[magicactionbox id="6908″]